Are you a member of the kids club yet? If not, you're missing out
on a lot of fun. Not only can you save money, but...
We have fun games to play online
There are coloring contests for great prizes
You get birthday cards and birthday treats
Plus a whole lot more!
Talk to Mom and Dad and open a new account soon!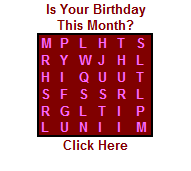 Did you find your name on our Birthday Wordsearch puzzle? Then send an email to kidsklub@varexfederalcu.net and win a prize!-->