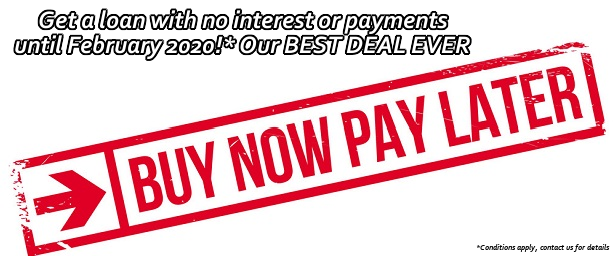 Details about our BUY NOW PAY LATER
BUY A VEHICLE NOW WITH NO PAYMENTS OR INTEREST UNTIL NEXT YEAR. Finance a used or new vehicle (anything with a title) with Varex Federal Credit Union from October 1-31 and make no payments until February 13, 2020. That's right...you can buy now and celebrate the holidays without having to make a loan payment or have your loan accrue interest!!
QUALIFICATIONS FOR THIS LOAN INCLUDE:
Credit rating 640 and above
2013 or Newer Model - includes cars, trucks, SUV's, motorcycles, boats, RV's (any vehicle with a title)
Payments must be payroll deducted or on auto pay
Must be a new purchase or refinance an existing loan from another institution
Any term
NO PRE-QUALIFYING
Contact the Credit Union for more details and restrictions.